On August 19, 2020 the MCA hosted its 12th Annual Scholarship Golf Tournament at Deer Run in Victoria, MN.  The organization filled the course with construction industry professionals. The popularity and success of this event continues to hold strong, even with this year's COVID-19 pandemic.
Deer Run is ever accommodating and had protocols in place to keep us distanced and safe.  With their high spirits and good attitudes, everyone involved enjoyed the gorgeous weather and impeccable greens.  Different from years past, we had staggered tee times and an outdoor cookout at Floyd's Bar.
A big thanks to Atomic Recycling for their culinary contributions!  Although we couldn't have course contests or raffle items, the event was a huge success! Congratulations to the winning teams of 2020, listed below.  The true winners will be the scholarship recipients who benefit from the funds raised by this event.  Thank you so much to everyone involved!
Check back soon for details on our 13th Annual Scholarship Golf Tournament! 
Winning Teams:
1st Place Team: 3B Tom Brown, Ben Newlin, Jason Whiting and Derrick Whiting of Terra Construction
6th Place Team: 9A Chris Scrabeck (Sonus Interiors), Jason Plumley (Sonus Interiors), Matt Wagner (Sever Construction), Tyler Johnson (Sever Construction)
12th Place Team: 8A Dave Lyste, Aaron Berning, Ron Fricke, and Drew Tuomisto of Rachel Contracting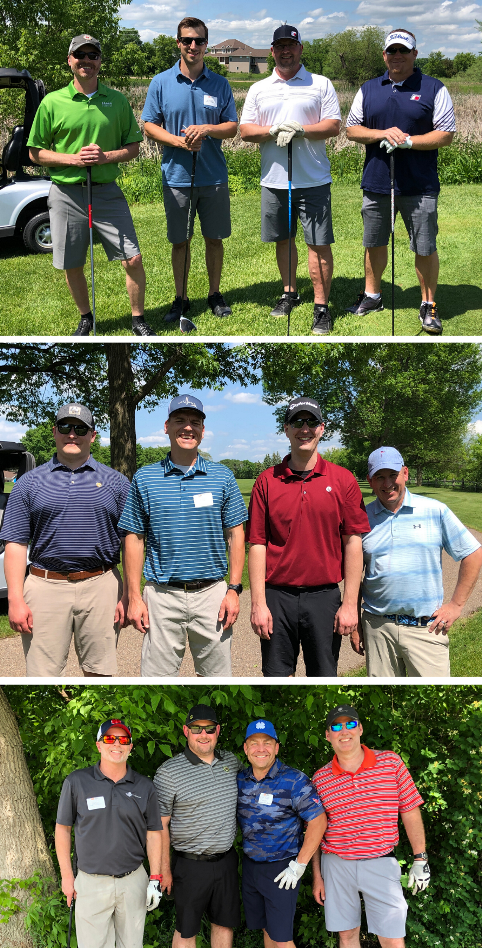 Registration Table Sponsor:
Driving Range Sponsor:
Golf Cart Sponsors:
Putting Green Sponsor:
Hole Sponsors:
Lunch Sponsors: